Single-Family Neighborhoods
All single-family amenities include access to a private oceanfront Beach Cabana with gated parking and access to the free shuttle which takes you to and from the beach. Owners also enjoy access to the North Tower Pool and Hot Tub on the Intracoastal Waterway.  Most single-family neighborhoods have access to the Residents' Club.
One of Barefoot Resort's most inviting neighborhoods is Bridle Ridge, boasting comparable luxurious amenities of a first-class resort at a premium value.
Bridle Ridge is comprised of 79 3-bedroom homes with sunrooms and/or screened porches and formal dining rooms. Brick, vinyl or stucco front exteriors are all low maintenance, and the selection of interior options is equally impressive.
This secluded neighborhood is close to the rear entry to Barefoot Resort with easy access to Water Tower Road, SC90, Route 31 as well as Myrtle Beach.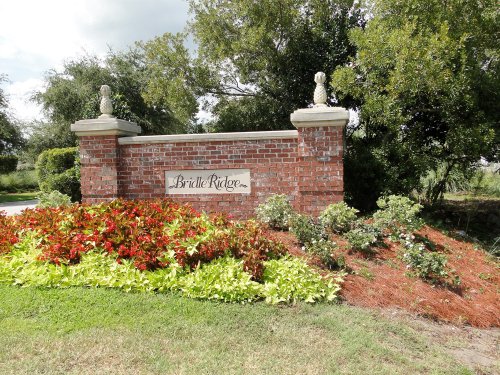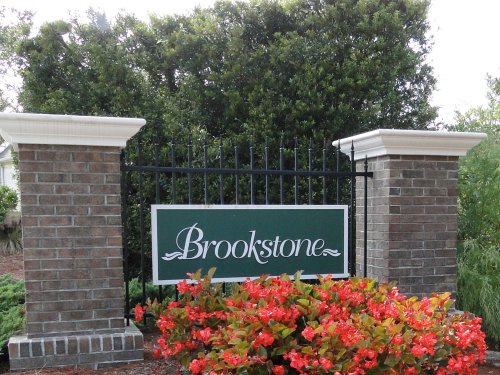 An extraordinary value featuring popular, spacious floorplans, Brookstone is comprised of 83 two and three-bedroom homes, many of which are on private cul-de-sacs. It is completely surrounded by natural areas and ponds, and is close to the rear entry of Barefoot Resort with easy access to Water Tower Road, SC90, Route 31 and Myrtle Beach.
Cedar Creek is comprised of 84 three and four-bedroom single-family homes within Barefoot featuring nine beautiful floor plans. Cedar Creek is bordered on the north and the east by the 4th, 5th, 6th and 7th holes of the Love Course as well as many natural areas. There are lakes scattered throughout, and quiet cul-de-sacs within the community are the choice of many who reside there.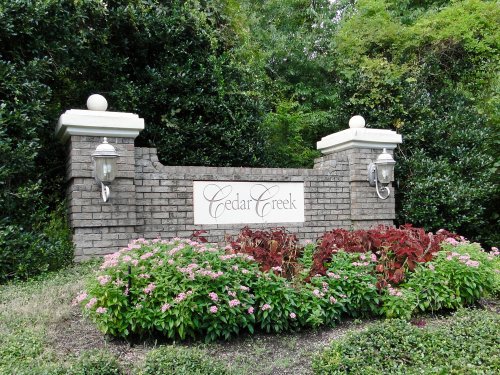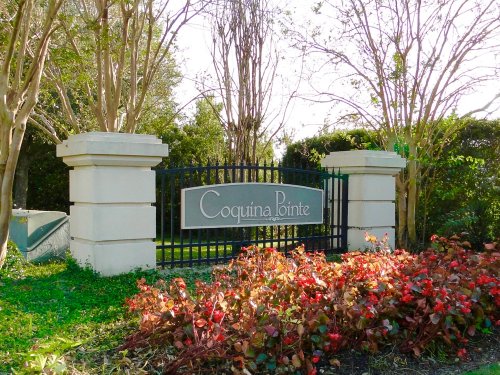 Just off Marsh Glen Drive is a peaceful little community of 96 patio homes surrounded by white picket fences called Coquina Pointe. The front-yard landscaping is fully maintained by the HOA. The brick or stucco front exteriors are low maintenance.
Dye Estates
Gated Community
The exclusive Dye Estates gated community features custom-built luxury homes on large ½ to 2 acre lots with towering trees. Each one-of-a-kind home enjoys breathtaking views – some with docks on the Intracoastal Waterway, others overlooking Barefoot Resort's signature Pete Dye Golf Course, and yet others with beautiful lakefront or lush wooded views.
Access to The Dye Estates gated community is limited to owners and their guests who are greeted by the security staff at the front guardhouse. The Dye Estates is very proud of the curb appeal of the 98 unique home sites that are graced with mature trees and beautiful landscaping along meandering roadways. Building lots are still available for homes with a minimum size of 2500 sq. ft. and no time requirement to build.
Amenities include complimentary shuttle bus rides to the private Barefoot Resort Beach Cabana with deck lounges, showers, bathrooms, elevator, kitchen and gated parking, as well as access to the luxurious 356,000 gallon, ionized North Tower Pool with hot tub on the Intracoastal Waterway.
LeatherLeaf
Gated Community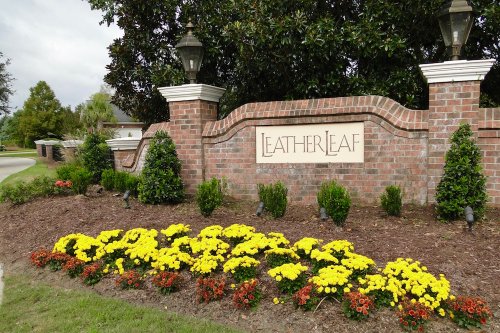 An upscale, gated community of 62 single-family homes, Leatherleaf is a quiet neighborhood of luxurious one-and two-story floor plans with 3 and 4 bedrooms, generous square footage, and many extras. Healthy, mature trees and the large, centrally located pond make this neighborhood a beautiful location and choice selection. This secluded neighborhood is surrounded by the Love Course.
This prestigious neighborhood offers a stately collection of 143 three- and four-bedroom homes ranging in size from 1,839 to 2,715 square feet. The houses are spacious, with high ceilings and luxurious owners' suites. Part of Longbridge is surrounded by the popular Fazio Golf Course, and part by scenic natural areas.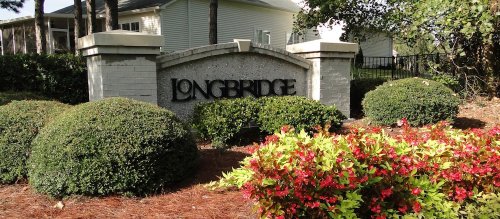 Oak Pointe
Gated Community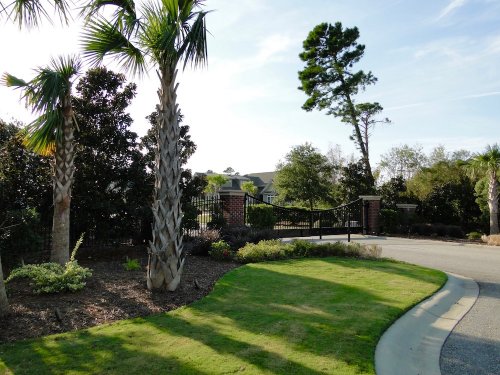 The exclusive Oak Pointe gated community features 33 custom-built luxury homes / lots in a secluded neighborhood surrounded by natural areas. This friendly community has its own Architectural Review Guidelines to accommodate its unique custom-built home plan freedom.
Park Hill is a wonderful neighborhood featuring 34 charming 3-bedroom single-level patio homes with spacious rooms and many extras. It is the only community with fully maintained and irrigated landscaping, both front and back, which makes it the most hassle-free way to own a single-family
home within Barefoot Resort.
The Park Hill homes feature white picket fences and 2-car-garages. They are surrounded by scenic natural area views, and many of the houses are on cul-de-sacs. Park Hill is near the rear entry of Barefoot with easy access to Water Tower Road, SC90, Route 31 and Myrtle Beach.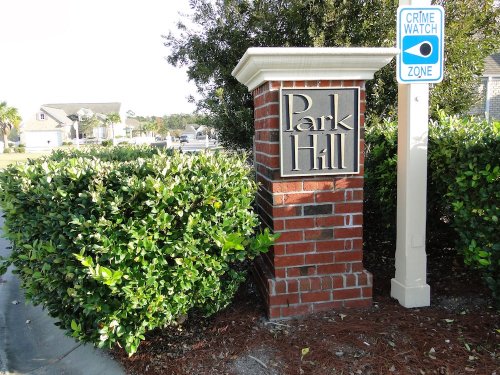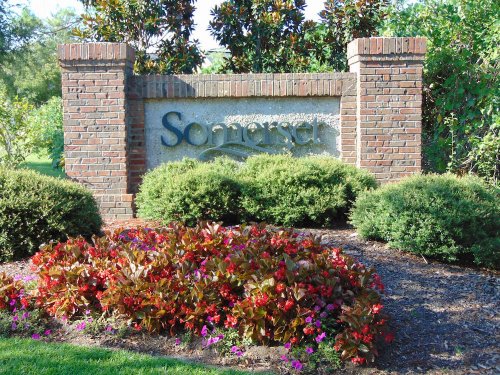 One of our smaller communities, Somerset is a neighborhood of 37 single-family homes featuring spacious three and four-bedroom floorplans ranging from 1,051 to 1,826 square feet. Vinyl and brick exteriors are easily maintained, and each house has its own garage. The ponds provide tranquility in the areas surrounding the community.
Sweetbriar features 70 charming one-and-two-story homes with brick, craftsman or vinyl exteriors and sunrooms or screened porches. These homes are especially popular with first-time homeowners, retirees or young families eventually requiring more space. The houses have generously sized 3 and 4-bedroom floor plans. Surrounded by secluded natural areas, Sweetbriar is near the rear entry of Barefoot Resort with easy access to Water Tower Road, SC90, Route 31 as well as Myrtle Beach.